Immediately thinking of "Lays Gourmet Review" brings to mind the premium promise of a beloved brand. Lays, having etched its place in snack lore, never ceases to amaze with its innovative flavors. Now, with its debut in the realm of premium kettle chips, the Gourmet line, we're here to unveil the taste that's causing such a buzz.
First Impressions of Lays Gourmet
What meets the eye is a packaging that feels luxurious and indicative of what's inside. Evidently, Lays has taken a gourmet step not just in flavor but in presentation too.
The Taste Test of Lays Gourmet

In our Lays Gourmet Review: A Taste Test Verdict," we've put our taste buds to work, examining these chips from every angle to give you the inside scoop. After all, snacks are meant to be savored, and that's exactly what we did! 🥔🍟
Our Scrutiny Criteria:
Flavorful Delight: We started by analyzing if the flavors of these chips live up to their enticing names.
Crunchy Satisfaction: We paid special attention to the crunch factor, because a chip should sound as good as it tastes!
The Lasting Impression: We pondered over whether the flavors stick around or vanish too quickly.
A Deep Dive into the Flavors of Lays Gourmet : 🍽️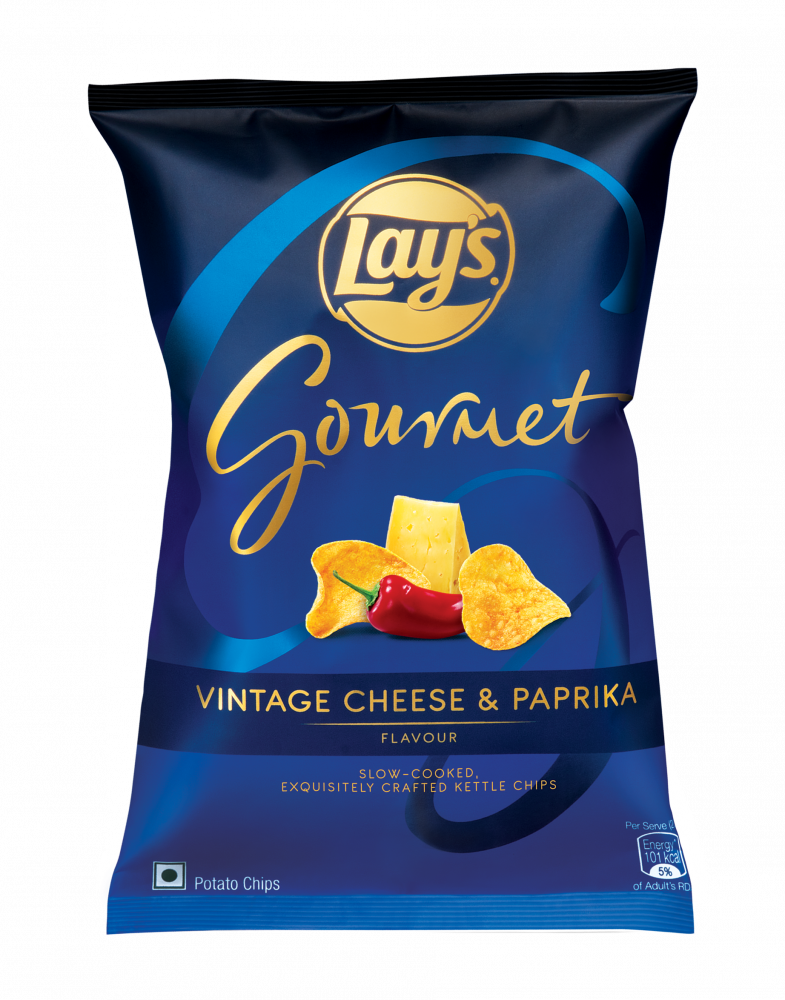 Vintage Cheese & Paprika:

First Impressions: The elegant blue packaging promises a lot, and this flavor delivers! The scent of cheese fills the air, and the paprika adds a hint of excitement.
The Verdict: 😋 We couldn't get enough! If you're a fan of bold, mature cheese with a touch of spice, this is your chip soulmate.

Thai Sweet Chilli:

First Impressions: The deep maroon packaging draws you in, and the golden font adds a touch of allure. A bite starts sweet but ends with a spicy kick.
The Verdict: 🌶️ It's a rollercoaster of flavors – a balance of sweet and spicy that keeps your taste buds entertained and craving more.

Lime & Cracked Pepper:

First Impressions: In a refreshing green package, these chips stand out. They're not heavily peppered but do offer a unique lime tang.
The Verdict: 🍋 It's a breath of fresh air. The mild lime flavor is invigorating, making it a perfect choice for a light and zesty snack.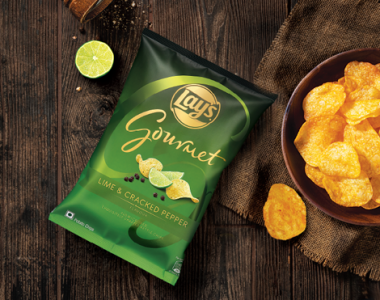 Noteworthy Highlights: 👏
Beyond the flavors, some aspects held true for all three varieties:
Crunch Galore: Each chip had that satisfying, hearty crunch that makes snacking enjoyable.
Premium Packaging: The sleek design makes it clear that these chips are stepping into gourmet territory.
No Greasy Aftermath: These chips don't leave your fingers or taste buds feeling oily, a definite plus!
Lays Gourmet Review: Exploring Price and Value
When it comes to choosing a snack, taste is paramount, but the price we pay for that pleasure matters too. In our Lays Gourmet Review, we dive into the world of Lay's newest Gourmet chips to evaluate whether they deliver not only on taste but also on value for the discerning consumer. Let's break it down! 🤑
Quick Glance at the Price:
Before we dig into the details, here's a snapshot of the pricing for
Lay's Gourmet Chips:
Vintage Cheese & Paprika: ₹30 for 55g
Thai Sweet Chilli: ₹50 for 80g
Lime & Cracked Pepper: ₹30 for 55g
Value Analysis:
Innovation Worth Paying For:

Lay's ventured into the gourmet territory with these chips, and the innovation shows in both flavor and packaging.
The premium and elegant packaging sets the stage for a unique snacking experience.
Comparative Pricing:

Are Lay's Gourmet Chips pricier compared to regular potato chips? It's a common question, and we have the answers.
While they are slightly more expensive, the gourmet quality and unique flavors justify the price tag.
Shelf Life:

These chips have a shelf life of 4 months, ensuring you have ample time to enjoy them at your own pace.
Final Verdict from Oye Kirana's Lays Gourmet Review 🏆
Lay's has long been the go-to snack choice for many. With its new Gourmet chips, it invites consumers into a world of exquisite flavors and crunch. But do they really hit the mark? Let's find out!
🎯 The Gourmet Appeal
Lay's doesn't just serve chips; they're delivering a gourmet experience with their new lineup. The rich, vibrant packaging beckons from the shelves, promising a treat that's a cut above your average chip.
This isn't just about snacking – it's a culinary adventure! From the Thai Sweet Chilli that tantalizes with its play of sweet and spice to the fresh zest of Lime & Cracked Pepper, there's a flavor journey awaiting your taste buds.
🛍️ Buyer's Attraction
Consumers aren't just buying chips; they're investing in an experience.
The flavors aren't just names; they're authentic tastes that transport you to the lands they represent. Who knew a snack could be a trip around the world? 🌎
🤤 Flavor Profiles and You!
Personal preference plays a big role. While the Vintage Cheese & Paprika might be a hit at Oye Kirana, the Lime & Cracked Pepper might just be your personal favorite.
It's all about what dances on your palate!
Why Lay's Gourmet is a Must-Try?
Innovation 🍲: Lay's is reinventing the chip game. It's not just about salted or spiced anymore.
Quality Assurance 🧪: Their in-house, research-based trials over weeks ensure what you get is the best of the lot.
Sensational Snacking 😋: Every chip is crafted to provide the perfect crunch and flavor burst.
Value for Money 💸: While slightly on the higher end price-wise, what you're getting isn't just a chip, it's a gourmet experience.
Personal Preference – The Ultimate Judge ⚖️: While our reviews shed light on the overall experience, every individual's palate is unique. Your perfect chip might differ from another's. It's always recommended to dive in, try them out, and let your taste buds decide. 😉
Conclusion 🎉:
Based on the Lays Gourmet Review, these chips aren't just about filling that mid-day or midnight snack craving. They're about relishing a gourmet experience, one chip at a time. But, as with all things in life, the final judge should be your own taste. So, why not give them a try and decide for yourself?
Happy Snacking! 🥳🍟🎈
(Note: Always check labels for allergens and dietary needs. Remember, snacking preferences are personal, so make choices that suit your palate!)
Have you tried these chips? Or are you planning to soon? We'd love to hear about your experience. Everyone's taste is different, so tell us how you liked these Lay's chips. If you're curious about any other snacks, feel free to let us know, and we might review them next!"